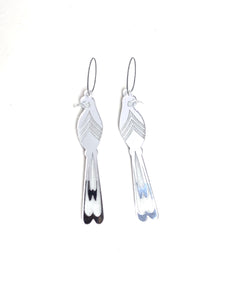 Our midi statement Paradise bird. She is a stunning simple design with absolute elegance. 
Total length 52mm

♥️ All earrings are hand designed and assembled. 
♥️ Made with good quality acrylic. 
♥️ The main components are sourced from Australia.
♥️ All earrings have hypoallergenic surgical steel posts.
♥️ They are so light you forget you are wearing earrings.
♥️ Most importantly have fun  
 HANDLING INSTRUCTIONS:
- Handle with care, avoid dropping as some pieces are delicate and may crack or break 

- We recommended that you avoid water where possible for longevity